Cycling the French Alps II
Hill-climbing around Pré de Madame Carle
Cycling between Briançon and Cuneo
Question:
«Cycling and hill-climbing at the same time?»
Answer:
«Yes, it's possible. I practiced it recently.»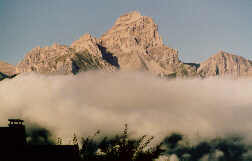 In
autumn 1992
I undertake a journey to the south of France together with a friend of mine, Jörg Eigemann. We decide to do hard cycling to get rid of some extra pounds of weight we have gathered while being married or not.
We decide to invest some money in the French motorway companies by taking the way through Luxemburg, Metz, Dijon and Lyon. That time Jörg is the proud owner of an old car that will not really fit the slogan «créateurs d'automobiles». However, those who built the car are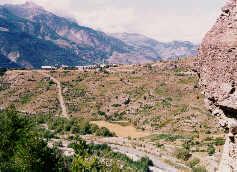 not responsible for the performance of old tyres. I guess it is Jörg's presence of mind that makes us survive the explosion of the left front tyre at a speed of exactly 100 miles an hour.
After changing the wheel we drive on towards Grenoble where we leave the motorway to climb up the hilly Route Napoléon. The weather becomes awful and we realize that there is no use in trying to reach our aim,
Eygliers
near
Guillestre
, lovely situated at the
Mont Dauphin
and above the gorges of the river
Guil
.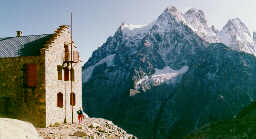 *
Later I shall write the following words to my
diary
1
: «We come across a journey where we take everything as is. We shall suffer from sunburns and cold winds in the evenings; and from too much wine and cigarette smoke in the mornings. We shall climb one of the highest mountain passes in the Alps, cross a pit-dark tunnel on gravel roads, feel high from scenic views while trying to reach ice-cold mountaineering huts, jumping over glacier gaps in sports shoes; and we shall surround the
Grand Canyon du Verdon
by pushbike within one day. We shall sit in restaurants reading books, writing some inefficient kind of love letters, smoking pure Gauloises...» (to be continued once)